Last month I decided to take part in Matt Granger's February competition which was on available light and I entered one of my Cosplay photos. This month however, the theme is Negative Space.
Whilst sitting at my desk I had an idea as to what I could do for this – Ironically, the idea was a photo of myself having an idea. Obviously this would be a staged shot but it seemed like something fun to do.
My first attempt was a heavily photoshopped image of a cut out of a correctly exposed bulb, my face and some editing done to fix the back-light on my hair. It was certainly what I had in mind, but it just didn't look genuine. I knew I could do better and get it (mostly) all correct in camera.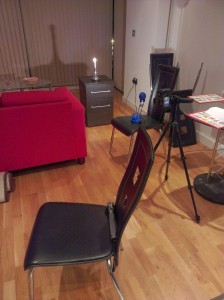 Once I had found out what shutter speed I needed to cut out all of the ambient light I set about getting enough light on me so that I look normal(ish) without over-doing the bulb that is supposed to be above my head.
I used a desk lamp and a precariously placed torch to get enough light on me.
As I was director, model and photographer, there was a lot of trial and error involved. I was guessing as to the focus and using a lower f/stop to try to keep more of me in focus. A bit of photoshop to move the image off to the left and bring the blacks/shadows down so you can't see the little bit of bounced light coming in the shot. I'm happy with the end result though – even if the focus is off a little bit.